Foreclosure Cleanout – Realtor Services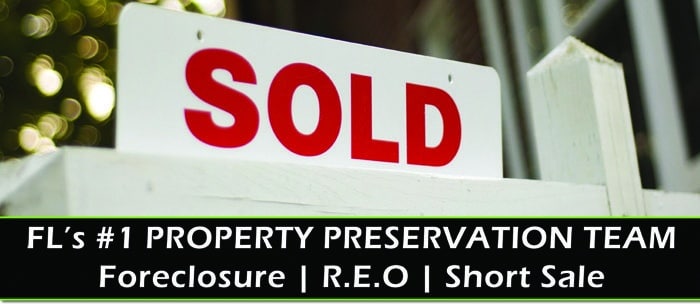 Junk Shot and it's parent company Accelerated Waste Solutions (AWS) offers an array of services that protect and preserve our client's collateral throughout the period of the foreclosure process or the sale of property. AWS offers professional services to asset managers, lenders, banks, insurance companies, owners, and the Realtor community. We take great pride in our ability to perform quality work, with quick turn-around times, at fair and reasonable prices. AWS thoroughly understands our client's needs and keeps abreast of the continual changes with all investor guidelines. This ensures that all work is completed in accordance with the applicable specifications.
Call 1-855-297-5865 Today, or fill out the Quick Online Form.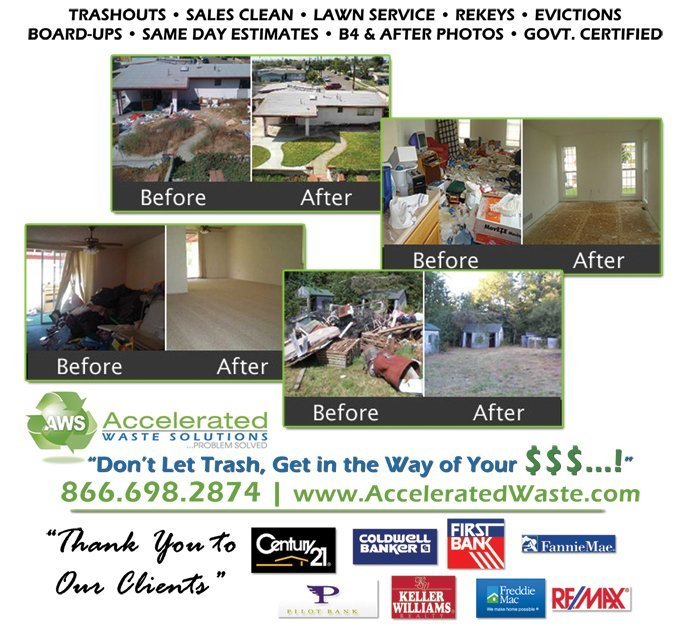 Property Preservation FAQ
Q: What makes AWS different from other property preservation companies?
AWS Strives to be YOUR #1 Choice for your asset servicing needs by:
1. QUALITY: Providing timely and professional completed of all assigned work, with a focus on helping our clients remain in compliance with investor guidelines
2. FEEDBACK: Offering an objective and detailed assessment of any repairs or other work need to protect and preserve the property, while increasing it marketability
3. ACCOUNTABILITY: quickly addressing and resolving any issues or concerns that may arise while keeping the clients best interest in mind
4. AFFORDABILITY: Focusing on performing superior work at Fair and Reasonable prices
Q: What Property Preservation Services do you provide?
A. PROPERTY PRESERVATION SERVICES
Securing
Lock Changes
Boarding (pools, doors, windows, etc)
Lawn Maintenance
Eviction Support
Lock Rekeys
Lock Box Installation and Coding
Replacement of broken windows
Tarping roofs
Roof Repairs/ Re Roofs
Evictions
Trash outs/ Debris removal
Maid Service / Sales Clean
Code Violation abatement
Health Hazard Removal
Safety Hazard Repairs
Pool Maintenance
Electrical Repairs
Repair and Renovation
Removal of above grown pools
Demolitions
City Code Violation Abatement
Debris Removal/Cleanouts
Rehab Services
Itemized Damage Reports
Covering of inground pools
Winterizations / Dewinterizations
Plumbing repairs
Pumping water from basements and pools
Abandoned Car, Boat, Motor Home or Motorcycle removal
Lawn maintenance
Fallen tree removal
Property Inspections
Fire damage repairs
Mold Remediation
Shed/Deck removal
Water damage repairs
Demolition
Cash for keys
Landscape Design and Installation
Q: What investor guidelines are you familiar with?
We are knowledgeable of all investor guidelines and service HUD, VA, Fannie Mae, Freddie Mac, and conventional loans.
Q: How long does it take for you complete the average project?
All work will be completed within 3 to 5 days from receipt of the Field Report. Rush service is available!
Q: What technology do onsite crews use?
All of our crews are equipped digital cameras with date stamps and Internet enabled tablet PC's for remote photo uploads and instant communication with the office. We keep accurate records of individual jobs and property history. This reduces our job processing times for preservation and inspections to near zero. All reports and pictures are delivered via email. More confidence, security, speed, & peace of mind for you. Thankfully, the days of waiting or searching for faxed reports are Over! Optimizing time and saving money. That's our goal.
Q: What Kind of insurance do you carry?
We carry General Liability, Commercial Auto, Errors & Omissions, Workers Comp and Excess Umbrella insurance.
Q: What areas do you cover?
We provide services in Tampa-Hillsborough, New Port Richey /Wesley Chapel-Pasco, Clearwater -St. Pete-Pinellas, Lakeland-Polk, Sarasota, Bradenton-Manatee, Kissimmee – Osceola, Orlando-Orange, and Altamonte-Seminole counties of Florida.